Just give me an excuse for a wander and I'm off with my bono bus ticket clutched in my sweaty little palm. With a good sized tick list the west coast was calling, first stop was Playa de la Arena and a writer friend of mine Tony Thorne MBE, he always puts me to shame because at 87 years old he is turning out stories and now novels at a prolific rate. A lot of his speculative and macabre sci fi stories are set in Tenerife and hopefully some of the movie interest around his Tenerife Tall Tales and novel Points Of View will develop into full blown cinema epics, in thee meantime check his work out at his website.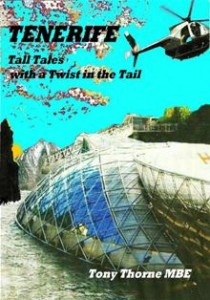 I don't just chuck these excursions together, I try to line up several research stops while I am out enjoying the wonders of Tenerife. Brewing an article about Playa de la Arena meant I could have a good old poke around at one of my swimming haunts from when I lived in Puerto Santiago. The day was hot and sunny but the sea was a bit wild as I ventured along the shore, when I first arrived here my Sunday routine often involved a short bar crawl along to the black beach, a few hours sunning and swimming, and then a longer bar crawl back.
The Hotel Playa La Arena (above) has great views over the sea front from the balcony that wraps around the conference rooms so I went inside to refresh my memory and grab some snaps. It's quite lavish inside with a large spread of pools and a cascading waterfall near the main road. I have noticed lately that the modern trend is to call the area Playa La Arena, dropping the "de" from many notices and signs, the hotel reflected this subtle change. A friend used to run the gym and if any interesting visitors were working out there she would invite me down to do a nice story for The Western Sun newspaper.
Another former hotel was calling me at the end of my west coast rainbow, Royal Sun Resort as it's now known had invited me back for a meal after my recent review to mark their re-opening. Heading for Los Gigantes via the Fishermens Museum ( above) in Puerto Santiago I stopped off for a coffee and changed into something a little smarter – well the clothes if not the person. It was quiet in thee village as the previous night had been the sardine funeral and last night of their Carnaval. My friend Jo met me at the church plaza and our luxury limo (ok it was just a taxi) whisked us up to the lofty perch where the Royal Sun shines down on the village.
We got a little lost on the way up to the Café Royale but it gave me a chance to tickle the water of the swimming pool on the top tier, it was lovely and warm. Just below we took a table on the outside terrace with views of the sparkling carpet of lights from Los Gigantes. The Regency Restaurant one floor down was closed but there was still just nine of us at the Café Royale, four inside and a family of three near us.
The food was lovely, my Dorada fish of the day and Jo's Carbonari, I even managed a dessert of hot chocolate cake with nuts and ice cream. It was pretty informal but I was glad I had scrubbed up a little, strangely some lady wandered through in a white toweling dressing gown – or was it a ghost? Anyway it was a great way to round off a busy day and I felt content and relaxed as my Titsa bus ferried me back down south.