I've always been fascinated by how people write as much as why they do, so after channel surfing through some truly awful telly tonight I latched onto a BBC 1 Imagine special about Ian Rankin writing his new Rebus crime novel Standing In Another Man's Grave. Partly a video diary of his creative process it's another prompt for me to push on with my oh so slow work in progress that might one day emerge blinking into the sunlight as something near readable.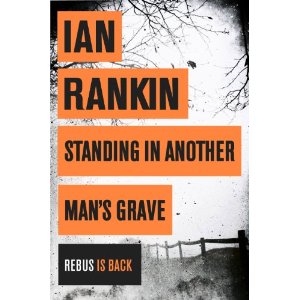 Back to my main fascination, Rankin was writing much of his new thriller with a favourite LP from Tangerine Dream playing in the background. Maybe I should see if some classic mood music from The Undertones might inspire me to knuckle down. My mind tends to wander easily, you really wouldn't want to see inside my head, it's like my sock drawer, muddled, dirty, and full of holes.
One of the best books I have read on the discipline of putting pen to paper (or finger to computer) is On Writing an autobiography written by Stephen King as he lay in hospital recovering from a near fatal knock down by a drunk driver as he walked home one night. The amazingly productive Mr King only talks fleetingly about his drink and drug problems as he wrote his first books but it's still a good insight into the great horror writer.
Back in Oxford I had the pleasure of interviewing Colin Dexter in a local hotel just after he had killed off Inspector Morse in The Remorseful Day. Very old school and like a prickly but kindly old uncle he told me how he still wrote on an old typewriter rather than a new fangled word processor. The cunning old devil was a bit deaf in one ear and sipping coffee and holding court with American tourists daily in the lobby of the swanky Randolph Hotel he would get the pretty young waitresses to lean in close to talk to him.
Music lyrics grab my attention for similar reasons, Bob Geldof often talked in the music papers about how he collected snippets of news and scribbled down odd phrases for future inspiration for songs. I was a great fan of The Boomtown Rats and still have a couple of their cassettes even though I have nothing to play them on. Paul Heaton of The Housemartins and The Beautiful South had an unusual method of conjuring up new song lyrics, he would head off to Utrecht on the ferry from Hull to Holland for a few weeks and loose himself in the brown cafes. Returning with a folder stuffed with random words and ideas he would get the band to wrap some music around his minds wanderings – amazingly he still came up with more brilliant lyrics after he gave up booze and funny cigarettes.
Whoops this was originally going to be a short comment on Facebook about the Ian Rankin documentary but my mind has slipped the latch on the gate and gone meandering up the road, I'd better give chase.