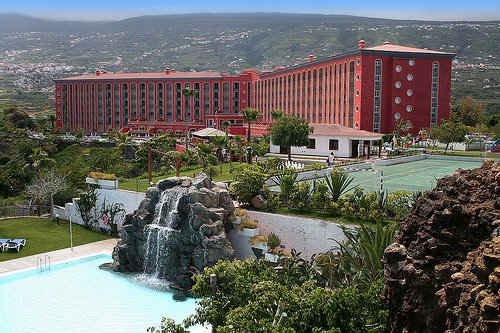 Life is often as flat as a pancake after all the madness of Christmas and NewYear but you can pump it up with a weeks half board holiday for two at the four star Hotel Las Aguilas thanks to Tenerife Magazine.
Perched on a hill overlooking Puerto de la Cruz the views of Mount Teide and the surrounding valleys are amazing. Last time I popped in there was even snow on Teide's peak, quite a contrast to the sun terrace by one of the outside bars or the energetic aerobics going on in one of the swimming pools.
Of course being a nosey git I had a good dig around and was impressed, a good choice of restaurants, tennis courts, and even a giant chess set so I could pretend to be intellectual. My friends had been staying there for a week and enjoyed the nightly music and entertainment but being fellow explorers they had taken advantage of the shuttle bus down to Puerto de la Cruz to check out the shops and tour the plazas and historic battlements.
The north of Tenerife has a whole different flavour so Hotel Las Aguilas is the perfect base for walking and sampling nearby towns and villages, even the capital Santa Cruz is just a short jaunt away.
Anyway if you want to win a weeks half board holiday for two, just click on the Tenerife Magazine home page and answer an easy question. The prize will be drawn on Tuesday 31st January and can be taken, subject to availability, within the next year. The prize is not transferable and must be claimed within 2 weeks of the draw or it will be re-drawn. Good luck.